Just wanted to let you know that over at
CDAC
they have some really cool Swaps going on over there. Just posted:
A Mini Album with Digi Stamps Swap.
Always have a ton of fun going on.
This weeks sketch...it's "YOUR PICK" Make it fancy, clean and simple, or somewhere in-between. Remember to click on the sneak peek button on the side bar for the following weeks sketch each Friday.
Enter one style or both this week.
Just have fun and come play with us :)
~~~~~~~~~~~~~~~~~~~~~~~~~~~~~~~~~~~~
Our MMSC113 Weekly Bonus Sponsor is..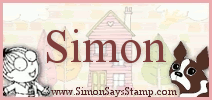 This week's sponsor is Simon Says Stamp. One random winner will win a
$20 Gift voucher
to their fabulous store. Be sure to stop by and check out all their wonderful crafting products.
Thank you so much for your wonderful prizes this week.
~~~~~~~~~~~~~~~~~~~~~~~~~~~~~~~~~~~~~~~~~~
Our July Monthly sponsor is....
Petaloo
Be sure to check out the DT projects made with Petaloo flowers
.
Click
HERE
to see the monthly prize details!
~~~~~~~~~~~~~~~~~~~~~~~~~~~~~~~~~~~~~~~~~~
MY MMSC113 CARD RECIEPE:
Petaloo
; Color me crazy, Silhouettes; Butterfly and 2 flowers - colored with Copic Ciao, R59, R35, RV13, RV02 og RV10.
Image from "prisciallastyles":
Heart Balloon Puppy Dog Digital Stamp
Text: Create with TLC
Papers: Making Memories.
Frames: Drawn and cut out.
thought that the sweet little dog should have a MATCHING HOME with lots of
Petaloo
new "Color Me Crazy" products.
House tutorial:
Artz de Scrap
Petaloo Color me Crazy and used Techniques:
Letters/Home: Apply Alcohol Ink; Sunset orange, Copper and Solution to Ink Applicator and dab the letters.
Orange Flowers: Add Sunset Ink to a little glob of water and dip the flowers. While they are in the water you can add a tiny little drop of ink or dab them a litte just after you have taken them up of the water. Let dry. Shape the flowers, melt some Clear Ultra Thick Embossing Enamel and dip the flowers.
Add some Glitz stickles; Tiara and/or Ruby slippers at the edges and let dry.
Haning Beaded Berries: Dab with Alcohol Ink; Raisin.
Do you think the house looks a little sloppy is it because I only had
small pieces
back
as I
tored
and inked and addered to the house with acrylic modeling paste

because

it

gave

me

the opportunity to

move

round

on

the parts

but

some of the paper

broke

and I decided to

give the house

some Glimmer Mist -

Now

it looked like

something

scary - so I added more paper.
But I really like "windows" and the roof even it took a while to draw, cut, ink and score the single pieces.